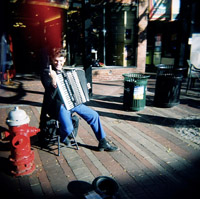 I have been playing the accordion, singing, leading bands, and writing music for over 15 years. I have been privileged to perform all over the U.S. as well as Canada, Australia, Spain, France, Belgium, Germany, and Poland. Locally, I have performed at esteemed New Orleans venues such as Maison, d.b.a, The Spotted Cat, Allways Lounge, Hi-Ho Lounge, Siberia, Yuki, Marigny Brasserie, New Orleans Museum of Art, Marigny Opera House, Mudlark Public Theater, the Voodoo and French Quarter festivals, and the Mid-City Bayou Boogaloo.
I grew up in rural New Hampshire and moved to Burlington, Vermont in the mid 1990's, where I lived for most of the next 15 years. At the age of 18, I discovered the Ashkenazic musical tradition known since the 1970's as "klezmer" music, and fell in love with the layer cake of seemingly opposing emotions, the laughing-through-tears character, the earthy yet prayerful wordless stories contained in these melodies. I learned to play the accordion amid the cathedral-like acoustics of a parking garage where I worked. An autodidact in music and other matters, I claim no mentors per se, but rather many influences and inspirations. These include, among countless others and in no order whatsoever Ludwig Van Beethoven, Tom Waits, Naftule Brandwein, Dave Tarras, Mishka Tsiganoff, Alan Bern, Michael Alpert, Frank London, Adrienne Cooper, Camille Saint-Saens, Dmitri Shostakovich, Michael Chorney, Nino Rota, Ennio Morricone, Danny Elfman, Guy Klucevsek, Eric Satie, Tin Hat Trio, Kurt Weill, Hanns Eisler, Astor Piazzolla, Jacques Brel, Tiny Tim, Bertolt Brecht, Leonard Cohen, The Tiger Lillies, and my Latin percussionist, guitarist father, Mark Symons.
I have been a theater person since the age of six, when my father played the archetypal moustache-twisting villain in a local production and I memorized nearly the entire play while helping him with his lines. I have often worked as an actor and occasionally as a director, and my first band grew out of my time with Mark Pekar (AKA Mickey Western) and his strange, utopian Fool's Jacket Troupe, which flourished briefly in Burlington in the late 90's. That band, Black Sea Quartet, consisted of percussionist Jeff Campoli, mandolinist Mike Deutsch, bassist John Thompson-Figueroa, and myself. BSQ performed 1998 – 2006, and was beloved throughout America's 49th most populous state.
In my next serious band, Inner Fire District (2004-2008) I was joined by guitarist/accordionist/pianist Tim Lang, then 18 year-old clarinet virtuoso Zoe Christiansen and bassist Tyler Bolles. Unfortunately, all that remains of what I consider to be one of the high points of my musical life are some less-than-great live recordings.
In 2008, I moved to Providence, Rhode Island for a year and started The Salt Wives, with euphoniumist Lydia Stein and violinist Jonathan Cannon. During that time I also helped start the Boston-based klezmer band Ezekiel's Wheels.
Around the age of 30, I began learning to play the trumpet, soon switching to cornet. Since the US attack on Afghanistan in 2001, I had been organizing impromptu marching bands for demonstrations against war and American aggression.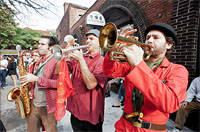 These bands were always wrangled at the last minute and often aesthetically unsatisfying, so in 2010 I founded The Brass Balagan, Vermont's only 10-20 piece, red-coverall-wearing radical brass band. The Balagan has continued to thrive and grow, vivifying protest marches and community events, since I left Vermont to move to New Orleans at the end of 2011.
Some of the many other musical and theatrical projects with which I have been involved: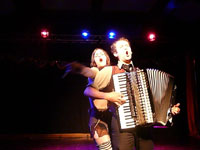 I served for 6 years as accordionist, singer, and actor in Burlington's famous Spielpalast Cabaret and, with Tyler Bolles, as musical director for two years.
I created the role of Hades in the original 2006 and 2007 productions of Anais Mitchell's "folk opera" Hadestown, directed by Ben T. Matchstick. Some of the other theatrical adventures that I prefer to remember include acting in several plays written and directed by my brilliant jazz trumpeter/playwright friend Stephen Goldberg, directing and acting in Wallace Shawn's Marie and Bruce, performing Shawn's single-character play The Fever in various homes, bars, and colleges around Vermont, and playing Anthony in Dennis Monn's 2012 production of Sondheim's Sweeney Todd: The Demon Barber of Fleet Street, with an all-star cast of New Orleans musicians.
In winter of 2010-2011, The Vermont Stage Company commissioned me to compose and perform a vocal and instrumental score for their production of Neil Bartlett's dark, quasi-Brechtian adaptation of Dickens' Oliver Twist.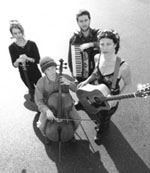 Other notable bands with whom I have played include Peg Tassey's The Kissing Circle, Mickey Western and the Etc. (the name of the band being changed for each gig), Berlin-based Daniel Kahn and The Painted Bird, New Orleans-based "Russian Mafia Band" Debauche, and The Underscore Orkestra, with whom I have toured Australia and Western Europe.
I am a former faculty member of The Summit School in Montpelier, VT. I continue to teach accordion to anyone who inquires.
I am currently living in Faubourg Treme in New Orleans, performing with The Salt Wives, now a quintet with Byron Asher (clarinet), Cody Ruth (bass), Dr. Sick (violin), and Lydia Stein (vocals, euphonium, and percussion). I also fix accordions.